Jade: Office Administrator
Jade resides in Nixa with her husband and college sweet heart Jonathan. She attended college at Missouri State and then Southwest Baptist University and competed on both cross country and track teams on a scholarship! She graduated with a degree in Organizational and Strategic Communications at SBU in the spring of 2019 and joined the Mac Dental team shortly afterwards. Jade enjoys being crafty, spending time with her husband, family and friends, traveling, snuggling with her pitbull mix puppy Lambeau, and watching The Office.
Jade joined the Mac Dental team in 2019 as the Office Administrator and loves making crock pot meals for the whole team (it makes the office smell pretty great too).
Fun fact about Jade: She can find herself running on the street view of Google Maps!
---
Barb: Insurance and Finance Coordinator
Barb was born in KY and raised mostly in VA. She spent 18 years in Northern AZ raising her family with her husband Kenny before moving to Missouri. She has been married to her husband Kenny for 25 years and has 2 children and 3 grandchildren. Barb loves the outdoors, camping, spending time with friends, family and her pups Jethro & Ellie Mae. She is the mother hen of the office and makes sure that everybody is taken care of whether at work or not! She gives the best compliments and makes sure everybody takes care of themselves throughout the day! She has over 20 years of experience in the dental field and enjoys connecting with and helping our patients.
Barb joined the Mac Dental team in 2015 when the doors opened and is currently the Insurance and Financial Coordinator.
Fun fact about Barb: Barb is a great riffle shooter and archer! She also thinks it is funny to scare people in the office, especially Dr. Mac!
---
Brandi: Scheduling/Treatment Coordinator
Brandi was raised in Monett, MO and now resides in Rogersville with her husband Tyler and their two children. For fun, Brandi loves going to the gym, jamming out with friends at concerts, traveling, or doing anything outside with Tyler and her dogs Harlow and Stella. Brandi is always up for a challenge (work related or not) and you can over hear her and Dr. McLauchlin placing bets about each other's athletic abilities. She's a great team player and sees the potential in others. Brandi's smile is the first thing you see when you walk through the doors and she has built friendships with our patients throughout the years.
Brandi has played several major roles in the office since 2016 and she now acts as the Scheduling/Treatment Coordinator.
Fun fact about Brandi: Brandi can beat Dr. Mac in a free throw competition (don't let Dr. Mac try to convince you otherwise).
---
Staci: Dental Assistant, EFDA
Staci grew up in Jefferson City and now resides in Ozark with her family. She completed dental assisting school in 1997 and has been in the field ever since loving it just as much as the day she started. Her hobbies include fishing and hunting, being on the lake with her husband and daughter whether they are fishing, tubing or just cruising.  She also enjoys spending time with her dad and brother, especially when they drag race their Mustang. When its cold out, she loves to snuggle up inside by the fireplace with a good book. She keeps our office fun by pulling pranks, telling hilarious stories, and going the extra mile to help anyone that needs it! Staci is reliable and loyal and remembers the smallest details which makes her a friend to all.
Staci is a certified Dental Assistant, has her EFDA, and has been with Mac Dental since 2017.
Fun fact about Staci: Staci is the best bowler on our team!
---
Riley: Dental Assistant
Riley was born and raised in Nixa and graduated from Ozarks Technical Community College with an Associate of Applied Science in Dental Assisting and a Certificate in Bioclinical Science in Fall 2021. One of her favorite things about dentistry is helping patients become more confident in their smiles, just like dental assistants have helped her as she was growing up! She is currently a Dental Assistant with us but is in school to become a dental hygienist! She enjoys volunteering at her church, shopping, hanging out with her family, watching Disney and Hallmark movies, and is always up for a trip to Chick-fil-A! She has two dogs, a beagle named Buster, and a dachshund named Winnie, both of which love to play and take naps.
Riley joined the team in 2021 as a Dental Assistant.
Fun fact about Riley: When Chick-fil-A announced their mobile truck location in Nixa Riley made sure everybody here knew about it. Her love for Chick-fil-A is unmatched!
---
Kristen: Dental Assistant
Kristen resides in Nixa with her two beautiful kids and the sweetest husband. They moved to the Nixa area from Branson in 2021 and have enjoyed all the things Nixa has to offer! Kristen loves to go kayaking during her free time all around the Ozarks with her family and friends. Her whole family loves to garden and they forward to it every year! Somehow, Kristen seems to be apart of all the inside jokes in the office… it makes sense though because she is pretty dang funny! It's not uncommon to hear an incognito sarcastic joke from her!
Kristen joined the team in 2022 as a Dental Assistant.
Fun fact about Kristen: She and her husband recently renovated their whole home!
---
Shannon: Dental Assistant
Shannon grew up in Richland, MO and now resides in Springfield with her high school sweetheart now husband Kyle, 10 year old daughter Nora, and their 14 year old Westie dog Chase. Shannon has been in the dental field ever since she graduated from the OTC Dental Assisting program in 2004. When she joined the team in 2022 she was dubbed the nick name Granny Shanny. Why you may ask? We actually don't remember; but the name stuck! Outside of work she loves to travel with her family in their camper on weekends and long trips across the country. Their family goal is to see all the U.S. National Parks! Other than traveling and camping Shannon enjoys cooking and making treats with her daughter, attending her church, and being active in serving in the Kids Church. She has a strong connection with her small Fusion group and church family!
Shannon joined the team in 2022 as a Dental Assistant
Fun Fact about Shannon: She and her husband sometimes help out with the family pizza food truck!
---
Tori: Dental Hygienist
Tori grew up in Ozark and now lives on a little farm in Sparta with her husband, Garret, their 3 boys, and little girl. She is a great story teller and a joy to have in the office with her bubbly, kind, and charismatic personality. Tori is the hostest with the mostest and enjoys inviting friends and family to her farm. She even hosted her sister-in-law's wedding! Tori is a "practical pinterester" and has done some amazing home renovations with her husband! She has a wonderful skill of being able to tell when somebody needs encouragement and being able to see the positive in any situation. When she is not at work her hobbies include hiking, kayaking, and spending time with family.
Tori joined the team in 2015 as a Dental Hygienist shortly after Mac Dental was established.
Fun fact about Tori: Tori wanted to be a country singer when she was younger (and still does)!
---
Kloye: Dental Hygienist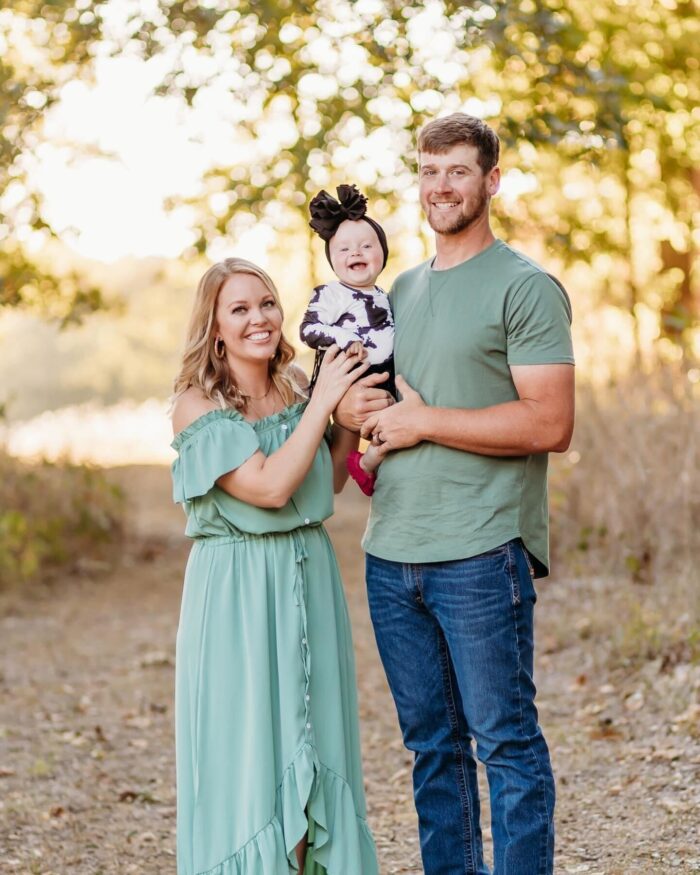 Kloye was born and raised Lamar MO and now lives in Springfield her high school crush (now husband) Jordan and their little girl named Tatum. Of course, they can't forget about their sweet fur baby Howie who is a mini Aussie! She graduated dental assisting school in 2014 and worked in oral surgery while also going to hygiene school until she graduated from the program in 2017. Kloye is known for giving the most hugs in the office! We're pretty sure she hugged everybody within a few hours of meeting the whole team. Her love and care for others is something we all admire! She grew up fishing, hunting, and doing anything outdoors so she is always up for a classic Ozarks adventure. When she is not working, Kloye and her family are spending time together, participating in church activities, and relaxing.
Kloye joined the team in 2022 as a Dental Hygienist.
Fun fact about Kloye: Her daughter was born on her 1 year wedding anniversary!
---
Heather: Dental Hygienist
Heather has been in the Ozarks all her life and loves the community here! She and her husband live in a 130-year-old house in downtown Springfield that they love to restore/work on. They also have a yellow lab that they love to do everything with. Heather is the definition of a go-geter so it's no surprise that she runs an Airbnb property, is an aerial performer and teacher (which is her biggest passion), a great cook, and does jiu jitsu! She applies this same mentality to her clinical skills as well! Since she graduated Dental Hygiene school in 2016, she has said the best part of her job is getting to know her patients and improving their dental health.
Heather joined the team in 2022 as a Dental Hygienist.
Fun Fact about Heather: She can speak gibberish!
---
Bethany: Dental Hygienist
Bethany was born and raised in Loveland, CO and moved to Republic in 2009 after marrying her sweetheart Chris. She was a dental assistant for 7 years and was the first team member ever hired at Mac Dental! She decided to go back to school for Dental Hygiene in 2016 and after graduating, Bethany came back but with a different role in 2019.  Bethany is thrilled to be back at Mac Dental with her patients, the office, this time with a different role. We like to refer her as the OG Mac Dental team member. In her free time, she loves to hike, bike, lift weights and read. She loves being outdoors and in nature as much as possible, especially in the Colorado area. Her goal is to one day visit all of the National Parks in the United States.
Bethany joined the team in 2014 as a Dental Assistant and then again in 2019 as a Dental Hygienist.
Fun fact about Bethany: Bethany has competed in several powerlifting meets with her husband and has plans to continue competing in the future!
---
Trish: Dental Hygienist
Trish grew up in Aurora, MO and moved to the area in 1999. She attended OTC for both her certificate in Dental Assisting and Dental Hygiene. Trish has been in dentistry for 25 years and has spent the last 18 as a Hygienist. She was able to provide irreplaceable insight to the dental industry when she joined our team! When she is not at work, Trish enjoys anything that allows her to be outdoors. She enjoys working out, running, traveling, lake days, kayaking, and gardening. Above all, she enjoys spending time with her two children, family, friends, and her Dog Dexter. Trish is a mentor, a proud mother, and cares about her patients and fellow team members.
Trish joined the Mac Dental team in 2021 as a Dental Hygienist
Fun fact about Trish: Trish does not like coffee!